Alice Kuipers does something very well in The Death of Us that few authors succeed at in my opinion. She gives voice to several characters in first person narratives, and they each have a distinct and believable voice.
I adore Callie's nerdy musings as she jogs "I feel like Odysseus travelling to exotic lands, and I wonder where the Lotus-Eaters are, or where the Cyclops lives" (29). The way phrases pop into her head, the way she struggles to write down her myriad of ideas, and almost everything about her resonates with me. The way she describes her surroundings and the people is so creative and observant that I want her to be real so we sit and people watch, because I think hearing her describe what's around us would open my eyes.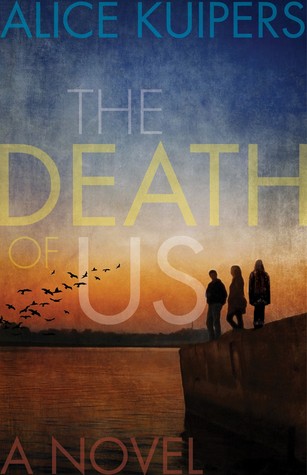 Ivy isn't someone I would be friends with but she still feels more real than someone like her usually does in the story. She may be the gorgeous, impulsive, center of attention but she also has a darkness in her, and an insecurity that Kuipers makes convincing. She does what she can to avoid becoming her mother, embracing life to the fullest. The wild streak this brings out in her leads her down her mother's paths though.
I enjoy that each girl tries to emulate the other. When they get stuck they imagine what their friend would do and act it out. It's interesting that it works both ways. There's a strange bond between them, they are so different but fit well together. There's also a sexual tension that is explored in a subtle way that I think demonstrates the difference between being sexy and being crude in literature for young people.
Kurt is in a unique situation of experiencing two worlds. He knows what it's like to come from that dark place, like Ivy… but he also knows even more luxury and sophistication than Callie. He struggles with balancing these sides of himself. I think each of the girls represents a side of him, and his attraction to them both represents that inner struggle.
The novel is a tragedy, but despite my sadness at the events that take place in it-I am left feeling inspired. It's the kind of novel that makes you want to hug someone you were angry at, to really live, to write poetry… I think Kuipers has done a fantastic job at creating realism. You can't help but care about her characters. You can't help but hang on her words.