Kenneth Oppel is one of those authors that I always look forward to when I have a daunting To Be Read pile that I must review. His book is often the treat I give myself as a reward for slogging through the ones I'm less enthusiastic about.
His active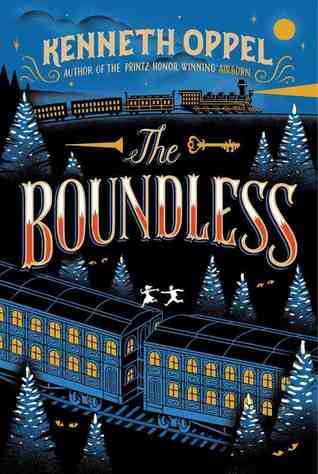 imagination is apparent in the wondrously complex and fantastical train that forms the setting of the novel Boundless. Imagine a train that has the class divide of the Titanic, with luxurious lounges and restaurants followed by crowded steerage. This clash of the social statuses would be enough of a setting but not for Oppel. He adds a circus and a booby-trapped funeral car fit for a pharaoh.
The landscape surrounding the train is filled with even more outrageous and interesting things. Many creatures from North American legends play a role in the tale.
Oppel's adoration of the classics in seen once again in this book. In his other series he explored the young life of Victor Frankenstein. In this novel he takes an interest in the picture of Dorian Gray. His new interpretations of well known works is interesting in that most of his readers will be too young to have read the originals; so his versions become their truth. People tend to bond with the first version of a story they hear.
His sense of adventure has not dwindled. Train jumping, police chasing, avalanche falling action fills the story with an urgency that slows only for the boy to wonder at the injustices that he was unaware took place on his father's train. Will is much like the princess in old tales who learns about the peasants she once took for granted but now feels a responsibility towards.
This is a good book, as anticipated. I think it will be most popular with older children and young teens.