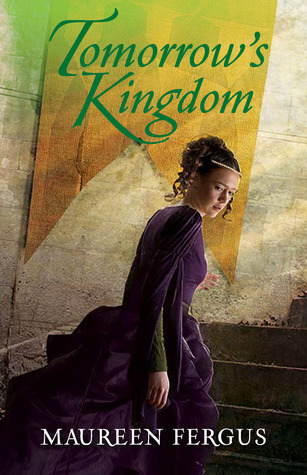 If you haven't read the Gypsy King read that first.
Maureen Fergus hooked me with the first two installments of the trilogy so I was excited to dive into the final book. Like the other books in the series, Tomorrow's Kingdom is an exciting fantasy adventure.
The idea of a lost royal child having a unique perspective towards peasants, servants, and outcast tribes that will unite the kingdom is a bit cliche, but I must admit I enjoy it. There's modern sensibilities towards prejudice and class divide injected into a setting of castles, corsets, horses, and adventure.
The romance is steamy but not explicit. The war has action but is not gruesome. These factors make the book appropriate for teens although I think many adults would enjoy it as well.
The villains are despicable men who are greedy, misogynistic and violent but they are also believable. They have reasons to be the disgusting people they are, formed by both nature and nurture they are well rounded characters.
This is a series I would recommend to readers looking for historical adventure, strong female characters or medieval fantasy. The fantasy elements do not play a large role, so it would appeal to people primarily interested in adventure who don't mind a touch of legend or a sprinkle of magic in a story.