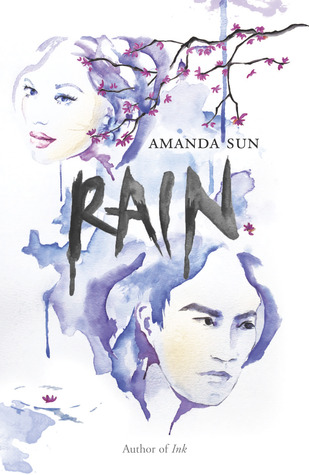 Rain is Amanda Sun's sequel to Ink (I recommend you read that first).
Sun's urban fantasy is exciting and different from any other series I've read. The Kami mythology is intriguing and it was great to learn more about the powers and history. The idea of drawings and words that literally come to life is fascinating. Add the angst of competition, identity crisis, and doomed romance and you have a great novel for teens.
Tomo's drawings turning against him and those he loved seems like a metaphor that could be explored at length in a book club or essay.
The contrast of beautiful scenery and gang violence, and intricate art and monstrous ink creates amazing imagery. The characters ruled by their jealousy and fears have back-stories that make the reader sympathetic.
I sometimes struggled to keep track of who was who because of the cultural differences. Everyone calls people by different names because your relationship is reflected in the name you use. This would be really confusing for me and I'm glad Sun has Katie struggle with it too.
I actually found the chemistry between Katie and Jun more convincing than the chemistry between her and Tomo. I'm not sure he ever did or said anything that made me feel like he was worth all the trouble they go through. However, I think this was partly intentional because there had to be some distance between them to create the love triangle- or hexagon if you consider all the people competing for Tomo's and Jun's affection not just Katie's.